TESTIMONIALS
A selection of some of our happy clients:
Here is just a selection of the many types of gate to which we have installed our solar powered gate systems
"The gate has instantly transformed the security around the farm"
Sat Sindhar, Dales Mount Farm, Nr Doncaster
These smart 18ft gates in Hampshire were made in the farm workshop and automated by Solar Gate Systems with GOLIATH lock and GMT 300s phone system. "I'm chuffed to bits!"
Owner Tom Coleman, Lower Norton Farms
Gate automation system now solar powered at Jamie Lloyd's Bloodstock stables, Warks, July 2016.
"We're really pleased with the gate automation"
Roz Lloyd, Far Westfield Farm
"Our solar powered gate is 'life changing'. It makes dealing with the stables so much easier"
Diana Jack, Stoneleigh Abbey, Kenilworth.
6.5 mtr (21ft) gate at Batsford Arboretum, Glos, totally solar powered.
" We're absolutely delighted with it!"
Stuart Priest, The Arboretum General Manager
Probably the longest solar powered cantilever gate in the UK, at 16.5 metres, over 54 feet!
Severn Trent Green Power green waste composting site, Chipping Norton, January 2021
A bespoke design, a strong 16ft farm gate in Hinton Charterhouse, Bath
"It gives me real peace of mind knowing that my gate is closed every night and all day Sunday. Solar power does it all"
Richard Coles: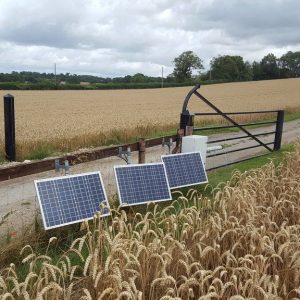 Keep Out! That's the message this smart gate gives out to unwanted visitors
"Before we had our gate fitted, we got at least 2 loads of Fly tipping every month, but since our secure gate was automated, we have had just one bag in 18 months"
Richard Bailes, Cole Hill Farm, Hartlepool
"We are delighted with both our new gates, the farm feels secure again"
Joe White, Watership Down Farm Partnership, Hants.
"Getting the mains to the gate just wasn't an option. Solar is the perfect solution"
Anthony Lewis, Moat House Farm, Acton Trussell, Staffs.
Large 15ft wooden gate using solar power in Cheshire; key fob, coded keypad and GMT 200S telephone control systems installed with high daily use for six properties.
Very smart designer gate set up, Driffield nr Cirencester
"Very pleased with the installation. Thanks for a good job well done"
Richard Davies, The Manor House, Driffield, Glos
New gate now solar powered on top of the White Cliffs of Dover, March 2018. It can be used by over 80 daily volunteers and staff during peak season using coded keypads and GMT 300s telephone opening.
Smart bespoke 5.5mtr gate now keeps out poachers nr Bedford
"The new automatic gate stopped the random drive-throughs on my farm overnight"
John Walker, Burford, Oxon
"We wouldn't be without our solar powered security gate, it stopped the rat run through our farm overnight"
Naomi Bugg, Dorset
Solar powered gate in Cotswolds, with vehicle and keyfob opening
Unobtrusive, low level 23degree Winter Harvesting® solar panels
Rear view showing stone pillar special fixing plate.
Temporary deer control gate at Cornbury Park Estate, Oxford, home of the Wilderness music festival. Note the mobile Fletcher solar array trolley.
Locked gate securing remote horse stabling, nr Tewkesbury. The solar panels are hidden from view, ground level to the left.
"I'm very happy with my new solar gate automation!" Lynne Kitson, Alderton, Glos
"Of the millions of pounds that I have spent on farm machinery over the years, I can honestly say that the best purchase has without question, been my automatic farm gate".
Colin Rayner, J.Rayner & Sons, Berkyn Manor Farm, Slough. March 2015
KEEP OUT! Huge gate powered by 36volt JUPITER brushless motor, nr Stonehenge, Wilts.
Entrance for new drive which is over 1 mile long, Cownham Farm, Stow on the Wold, Glos.
16ft galvanized farm gate with GOLIATH lock, nr Melton Mowbray, Leics, Feb 2018
"I'm very happy with my automated gate! In fact, the extra keyfob for my personal use was the best £32 I've ever spent!"
Richard Dibben, Sturminster Newton.
"The GMT 300s works really well with all our 12 drivers, who come and go at all times, day and night"
Andrew Coleman, M.D.
"We're really pleased with our new solar powered gate"
Emma, North Crawley Estates, Beds. May 2018
Solar powered gate with GOLIATH lock, beside busy A4500, Northampton
"We're delighted to not have to chain our gate every night anymore!"
Ann Wilson, Harpole, Northants
Remote new gate and driveway, in Glos, Spring 2017
" I was so pleased with our first gate, we installed automation on our second gate!"
Jim Dale, Nr Bourton on the Water, Glos
"I no longer have to travel over 2 miles every night to shut the gate. It's brilliant!"
Joe Abernethy, Oxon
Sophie Countess of Wessex is very interested to learn more about Solar Gate Systems at the Dairy Event October 2016
Solar Gate Systems win Bronze Award at the 2015 Bath and West Show!