GATE PRODUCTS
Solar Gate Systems supply a Brushless design of motor developed by the Italian company, Roger Technology. This is right at the cutting edge of a high tech, super efficient design which is perfect for solar use in the UK.
Minimal power requirement ( up to 200% less than some systems currently marketed as 'solar friendly' ) achieved through brushless motor design, the latest totally digital control boards, and now Smart MPPT solar chargers are all pre-requisites for a successful solar powered system to give total year round operation in the UK.
Solar Gate Systems have also carried out extensive research to maximise the winter solar harvest and uniquely supply our bespoke 23 degree Winter Harvesting ® solar panel mounting brackets, manufactured in the UK, with our own design of solar panel. When installing, we establish where SOLAR SOUTH is on your property which is NOT the same as magnetic south, to maximise the solar harvest.
Additionally, we run our systems at either 24 or 36 volts DC which gives a greater efficiency (can be as much as a 50% increase) over those systems running at just 12 volts DC.
JANUS Brushless motor
Designed to operate over 1000 times per day, (in fact there is a motor in the factory which has achieved over 6,000,000 cycles) this super efficient, state of the art motor is our most popular seller, operating on well hinged gates up to 5mts in length. Can be solar or mains powered.
Included in the above system are 2 hand held key remotes, two small flashing amber warning led lamps when the gate is moving and a pair of wireless safety photo cells.
With a design capability of over 800 cycles per day, this smaller motor is the one seen on our Demo gate set up and is ideal for a double gate set up and smaller gates up to 3mts. Can be solar or mains powered.
Included in the above kit are 2 hand held key remotes, two flashing small amber warning led lamps when the gate is moving and a pair of wireless safety photo cells.
JUPITER Brushless motor
The latest motor to be introduced by ROGER Technology comes in at 36v DC with a whopping 5000 Newtons of gate opening torque. This is designed specifically for gates from 5 to 7 metres in length and what a motor! After extensive testing, we now have a large number of gates in operation successfully powered by the JUPITER motor, using nothing more than solar energy.
NEW ! Special Order BLACK EDITION JANUS and JUNO motors
Solar Power Pack
Our solar power pack consists of a GRP lockable control box to prevent condensation build up, housing the latest digital control board, Smart MPPT solar controller with two AGM Deep Cycle solar batteries. Three solar panels to our own design, supply 24 volts fixed on our bespoke 23 degree Winter Harvesting ® mountings, manufactured in the UK, all fixed on a sturdy galvanized pole.
GMT 300s telephone control system
Up to 300 numbers, landline or mobile, can be stored in the GMT 300s system so that any number on your 'Guest List' can open your gate. There are NO ongoing contracts or call charges as the call is ended when the number is recognised. Telephone numbers can be easily added or deleted by texting the revisions to the gate, totally maintaining your security. You can open your gate from literally anywhere in the world and all is 100% secure as only you decide who is added to your phone list.
'Tradesman's' access push button
The push button is set to be 'live' during working hours only, allowing access for deliveries happening throughout the working day. At nightime and during weekends, the button is non active.
Exit/Entrance sensor
Sensing the change in magnetic field when a vehicle approaches, the exit/entrance sensor can simply be installed in the verge next to your drive, so there is no need for expensive digging to install induction loops in your driveway. Animals or pedestrians will not trigger the sensor.
Wireless Push Button
Can be located up to 150 metres from your gate, it wirelessly opens your gate. Very useful for post mounting for vehicle drivers on exiting where the gate hanging post is on the RHS of your driveway on entering; this saves digging a duct under your drive.
Timer, 24/7 day
This allows you to programme the opening and closing of your gate automatically at pre-set hours, which can vary on each day of the week. The timer is located very handily on the inside door of the control box door making it very easy to adjust timings if required. The timer can also be linked to the exit sensor and a push button.
GOLIATH solenoid lock
With a holding force of over 2,000lbs, this lock certainly lives up to its name! The lock snaps shut, and is opened by a solenoid which activates a split second before the gate opens. It has a Yale type key for emergency unlocking and the hasp has over 70mm of free play movement designed to cope with a future sagging gate.
The lock can even be attached to the gate as below, which avoids the need to dig a duct between the gateposts.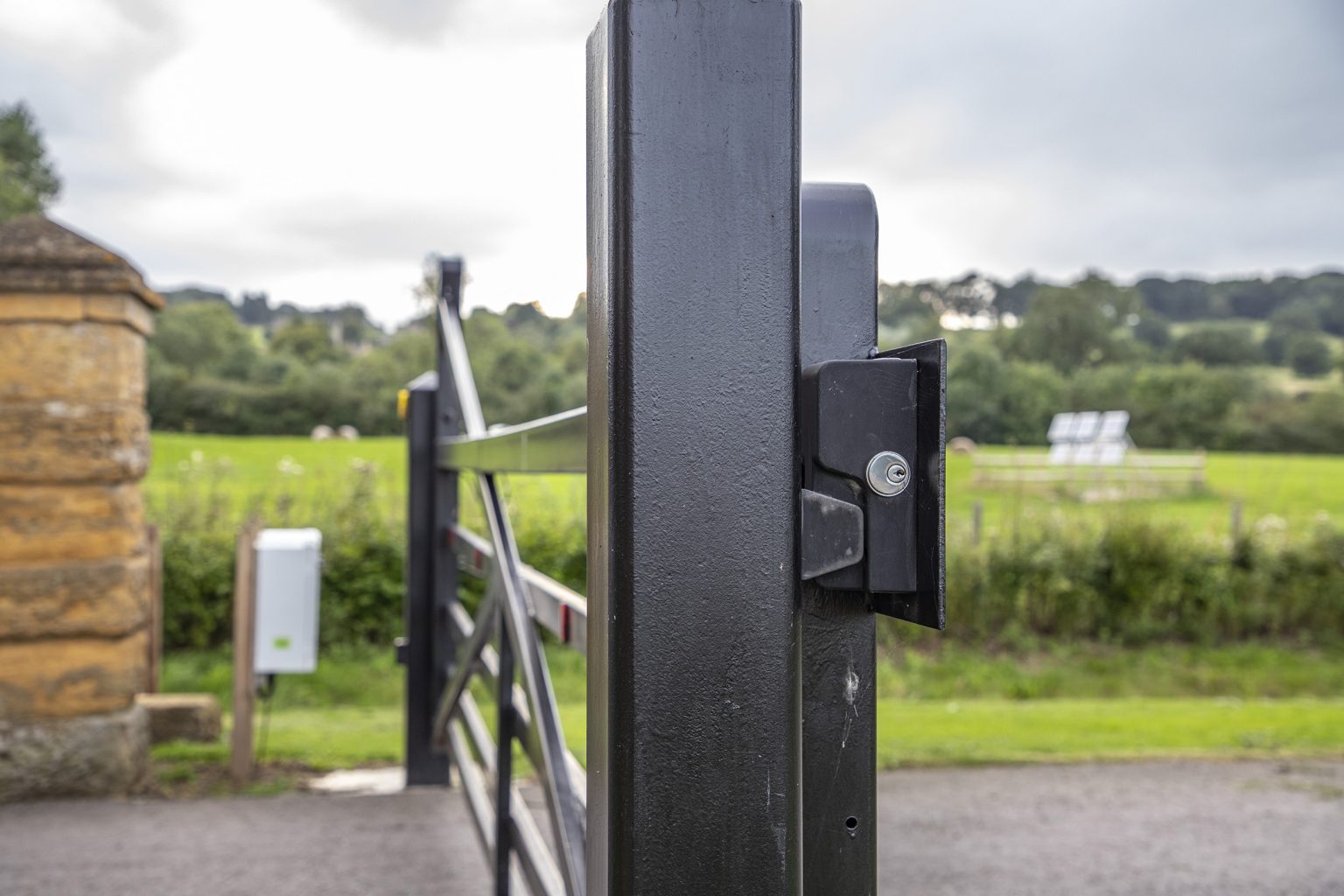 Farm Security Barriers
We can automate steel barriers which can be opened, closed and locked through solar power giving a new level of security in the remotest of locations.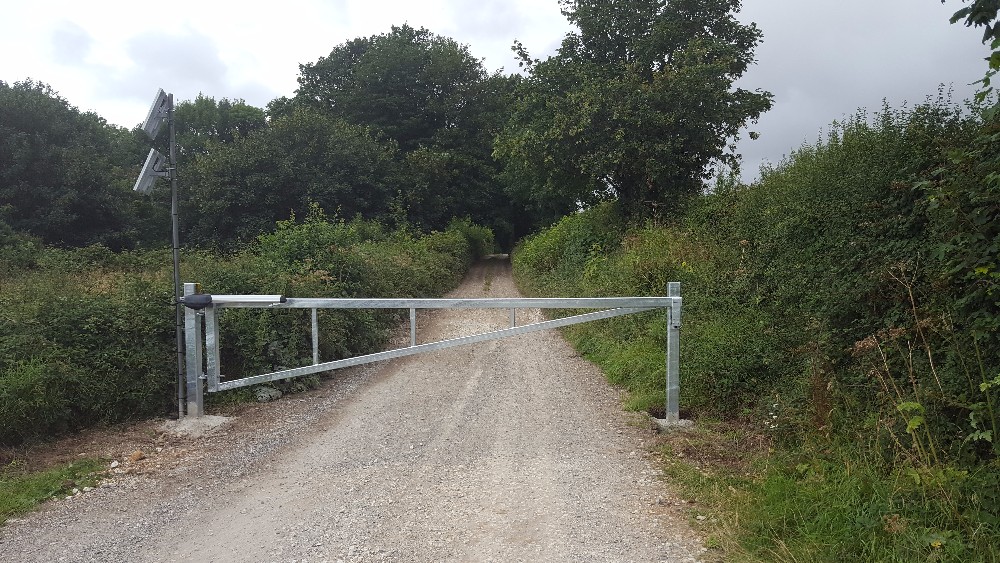 New Projects
We also have developed exiting new projects such as these solar charged clay pigeon traps operating at the Honesberie Shooting Ground, Southam, Warks.